See Additional Content Below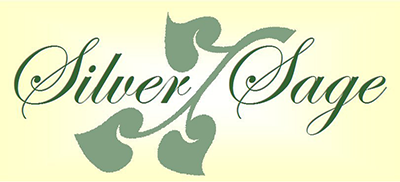 Welcome to Silver Sage Herbs!
Organic Herbal Tinctures
Organic Essential Oils
Nano-Particle Colloidal Silver
Home Birth Supply Kits
Advanced Maternity Care Charts
for Pregnancy, Women's Health, and Family Care
---
TINCTURE FEATURES:
Very high-strength "mother extract" tinctures.
Average ten times stronger than typical commercial tinctures.
Made from all organic herbs, wildcrafted whenever possible.
True tinctures with high alcohol content for long shelf life, not glycerites.
Currently there is no extra charge for custom blending.
One drop is a typical adult dose.
ESSENTIAL OIL FEATURES:
My essential oils are all food-grade (better than what other sellers call "therapeutic grade") from strictly organic certified distillers, unless otherwise stated. They are NOT DILUTED. When you read articles about how to identify high quality essential oils, it becomes clear that ours are very high quality for a reasonable price.
Please note that essential oils are very powerful. While some essential oils like peppermint and cinnamon are commonly used as flavorings in foods, casual internal use of essential oils is never recommended, and should be done under the supervision of a skilled health practitioner. Not all essential oils are safe to ingest!
Quantities are limited! Prices and availability are subject to change.
Information about some of the traditional uses of herbal products and colloidal silver that is offered here is not a substitute for medical advice. Information, statements and products on this website have not been evaluated by the FDA and are not intended to diagnose, mitigate, treat, cure, or prevent any disease or health condition. For more information, please see Conditions of Use.
Please Use herbal products wisely.
About Me:
I am a nationally certified midwife trained in both classical and allopathic medicine, and licensed to practice in multiple states. With all options available to me, I prefer to use herbal remedies as a first choice, before using synthetic pharmaceuticals. Commercially prepared herbal tinctures were not meeting my standards, and I soon realized that if I wanted to be able to count on them professionally, that I needed to prepare them myself. And so Silver Sage was born...
About Sizes of Bottles:
These are very strong tinctures, so a little goes a long way. The half-ounce bottle is suitable for most purposes. For longer periods of use, the larger the bottle the better the bargain. Just treat them well so they stay potent for a long time (please see Conditions of Use).
Tinctures come with a sealed cap to prevent spillage or evaporation, and a glass dropper is included in the box. Essential oils come boxed, with a sealed cap and removeable flow restrictor.
We are very proud that many of our organic tinctures and oils are now available on Azure Standard's organic foods website! Watch for them on sale there.
Child-proof dropper tops are available; see options under Herbal Tinctures: Special Orders. If you request a child-proof dropper in the comments box at checkout, there is no extra charge. For long-term storage, do not leave your tintures stored with the child-proof cap on, put the solid cap back on and just rubber-band your dropper to the bottle or put back into the original box. Child-proof droppers tend to allow the alcohol to very slowly evaporate, which could spoil your tincture.
REVIEWS:
Customers who leave reviews will be emailed a special discount coupon good for 50% off their entire next order, because I appreciate your valuable time and support!
Wholesale and Professional accounts are available, email me for details.
Gift-wrapping is available, too!
Thank you for shopping at Silver Sage! When you order from us, you are supporting a family micro-business.
Silver Sage Herbs
PO BOX 800
GOLDENDALE, WA 98620